We have selected for you 20 very different verandas for any mood and occasion. Summer is a small life and a great time to enjoy delicious food outdoors.
Версия на русском языке тут
---
On the roof/with a view
Lila Arabic
Sretenka, 22/1, building 1
Mon-Thu, Sun: 12-00:00; Fri-Sat: 12:00-03:00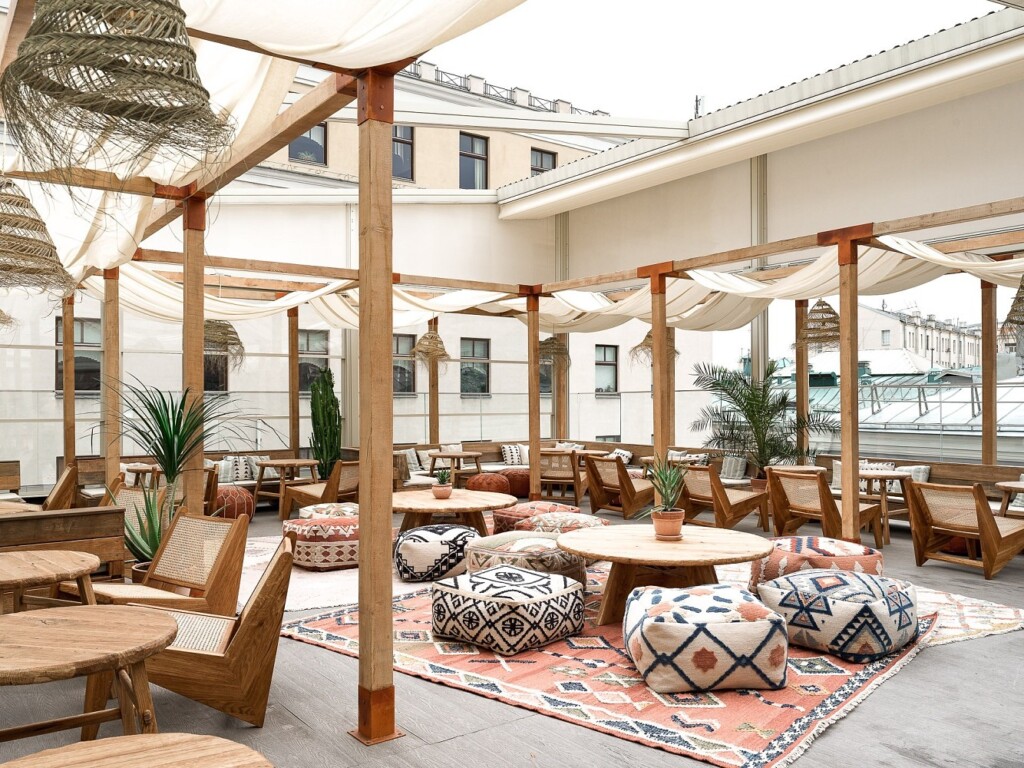 Lila's restaurant project is unique. On three floors of the mansion there are different cuisines: on the first — Asian, on the second — Italian, and for the veranda on the third, the concept is changed every year. This year, together with the Munterra restaurant, the owners have made Arabic cuisine combined several countries — Syria, Egypt, Morocco, Lebanon and Turkey. The atmosphere of the oriental lounge — carpets, wicker lampshades, poufs.
All meat and milk products here are halal. The famous Insider bar is responsible for the cocktail menu.
"Pythagoras"
Trubnaya square, 2
Mon-Sun: 12:00-00:00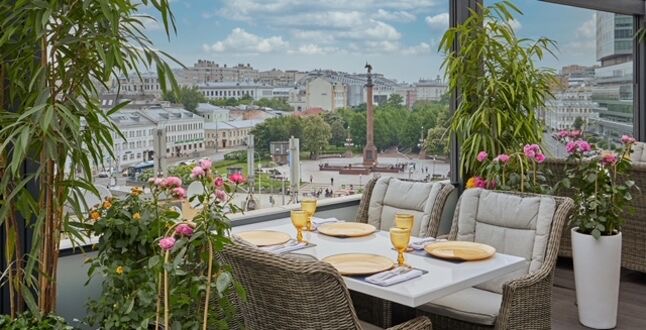 Magnificent view of Trubnaya Square from the summer veranda on the roof. Greek cuisine and relaxed atmosphere.
Sakhalin
Smolenskaya street, 8
Mon-Sun: 12:00-00:00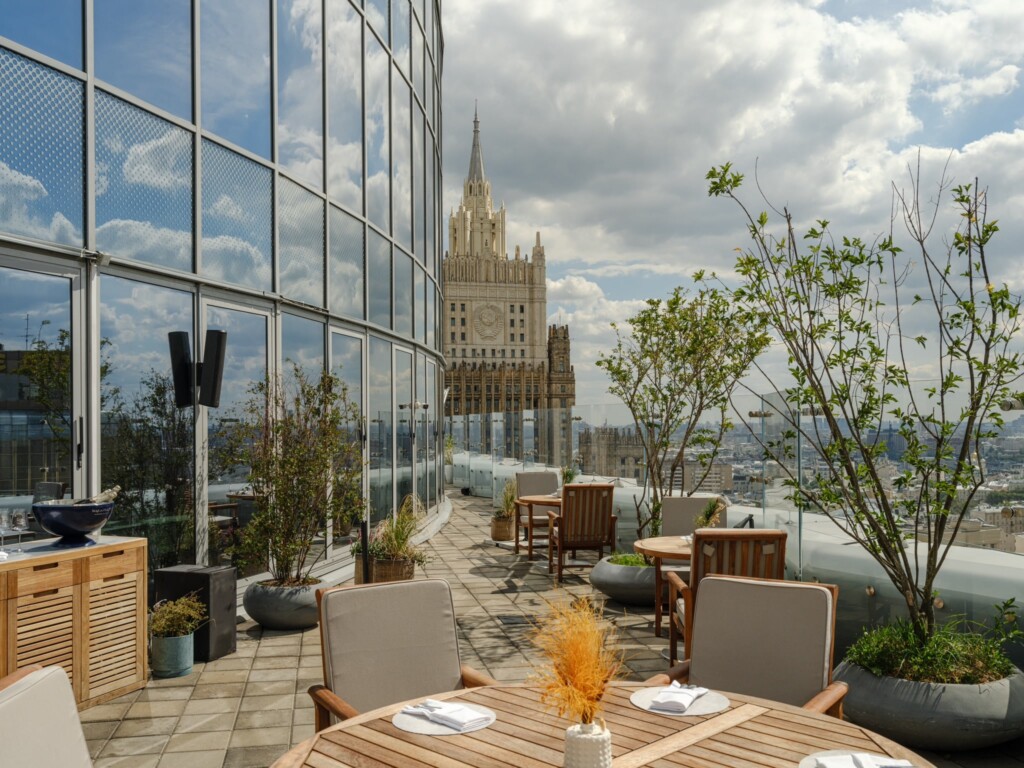 The restaurant is from the White Rabbit Family, and this, a priori, means that it will be delicious. Marked with a Michelin star. It is located on the 22nd floor with a 360-degree view of Moscow, and in summer there is also a terrace. Mediterranean cuisine using Russian regional products. Raw-bar with a icebox and an aquarium where you can choose seafood to taste. The quality and freshness are at the highest level. Pay attention to sushi and rolls — they are amazing here.
"Pushkin"
Tverskoy boulevard, 26A
Mon-Wed: 9:00-00:00; Thu-Sun: 24 hours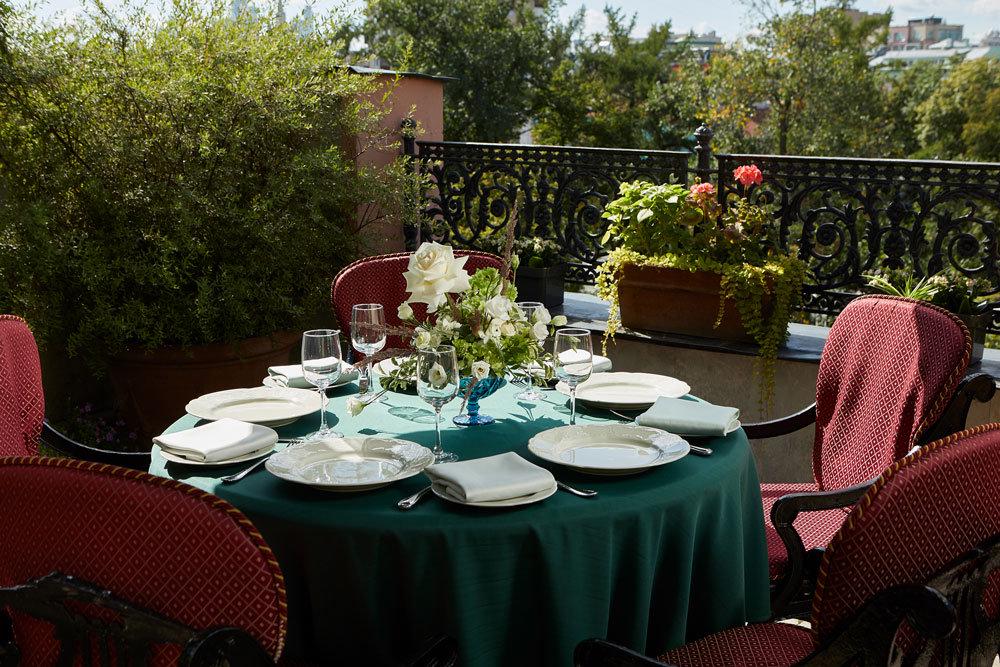 The most famous Russian restaurant in the city. Few people know about the veranda, but it is located on the roof overlooking the boulevard. Green, away from the fuss and noise of the center. The menu is divided into halls — "Pharmacy" and "Library", all dishes with deep Russian roots. Everyone will find something to taste and enjoy.
«Erwin. Patriki Pavilion Pond"
Bolshoy Patriarchal Lane, 5 
Mon-Sun: 9:00-00:00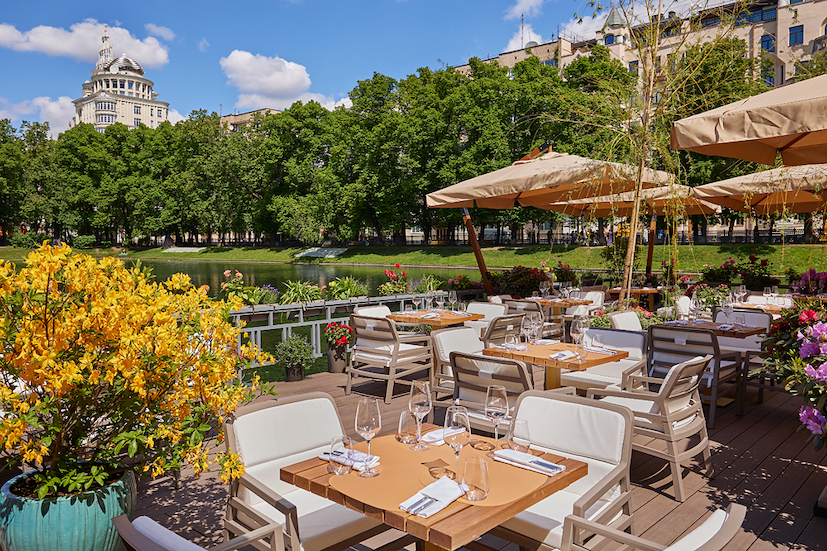 The restaurant has two verandas at once: one is located on the roof of the pavilion, the other is on a pontoon. The view opens onto the Patriarch's pond with swans, the green square and the surrounding houses. A quiet and cozy place in the city center. The menu focuses on fish and seafood.
o2 Lounge
Tverskaya street, 3
Sun-Wed: 12:00-00:00; Thu-Sat: 12:00-2:00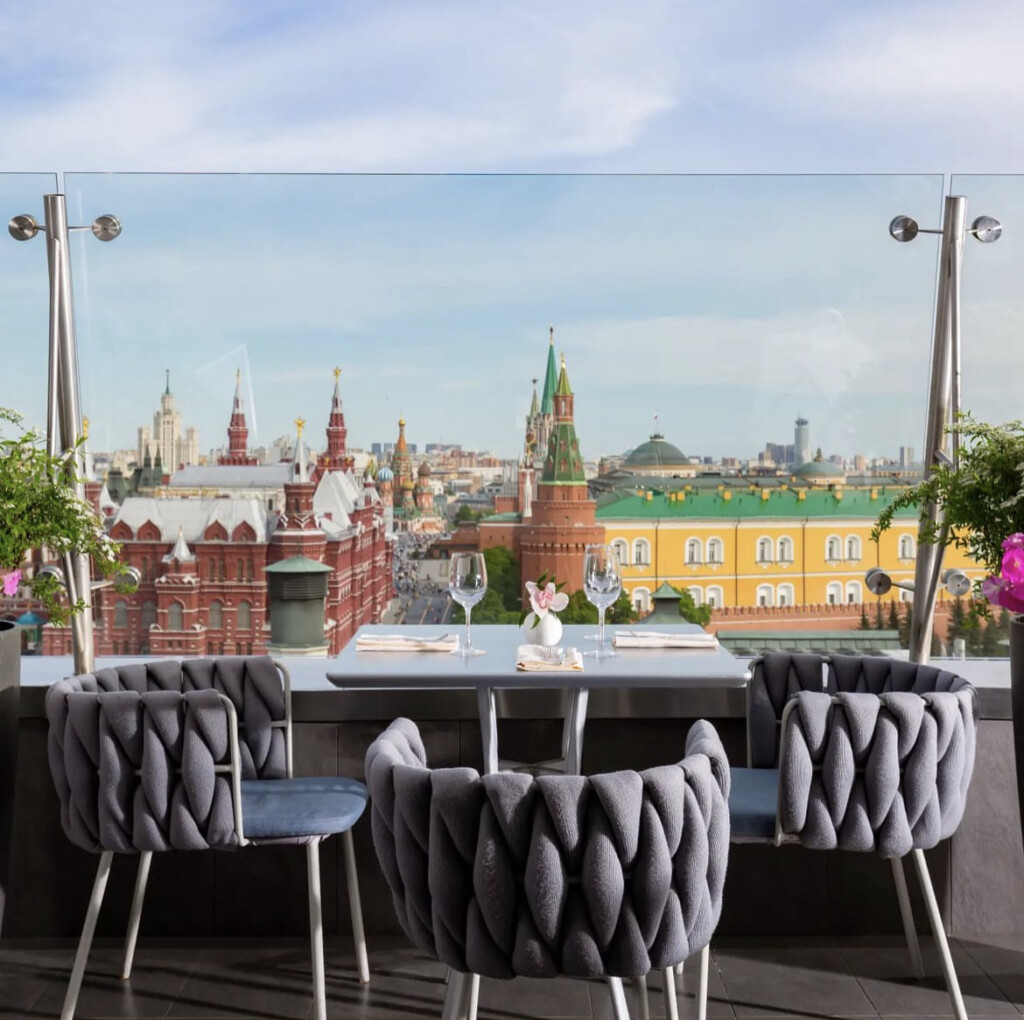 A veranda in the heart of the capital with a gorgeous view of the Kremlin and the surrounding area. The menu includes European cuisine, fish and seafood. Of particular interest is the cocktail card from Philip Glushakov, which invites you to travel around Russia, where each drink has its own history with special aesthetics and taste mixes.
Selfie
Novinsky boulevard, 31
Mon-Sun: 12:00-00:00
A veranda with a beautiful view of the high-rise on the Barricadnaya. A Michelin-starred restaurant. The author's cuisine from Anatoly Kazakov with interesting combinations in dishes and impressive tastes.
"Kazbek"
1905 goda street, 2
Mon-Sun: 12:00-00:00
The veranda offers panoramic views of the Moskva River and the hotel "Ukraine". Georgian cuisine is not quite in the classic version, but it is no less delicious, and the portions are good.
---
In courtyards
"Guidon"
Bolshaya Nikitskaya street , 5
Sun-Thu: 12:00-00:00; Fri-Sat: 12:00-2:00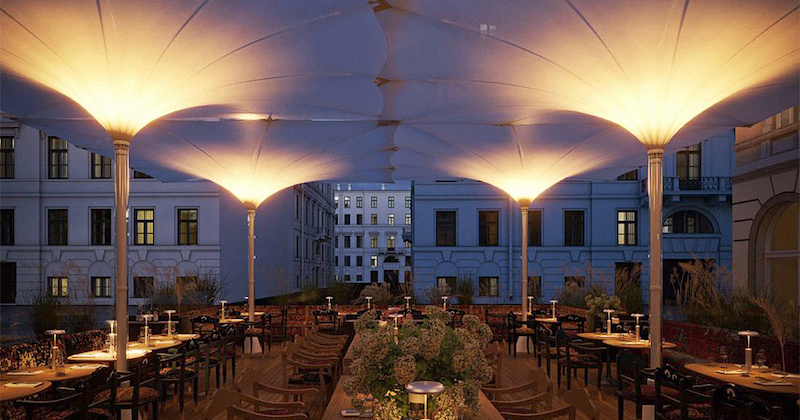 A restaurant from the White Rabbit Family, where Pushkin's fairy tale turns into reality: both in the interior and in the menu of the place. A veranda with a chamber environment and greenery. The menu is based on fish and seafood.
Blanc
Khokhlovsky lane, 7-9, building 2
Sun-Thu: 9:00-00:00; Fri-Sat: 9:00-3:00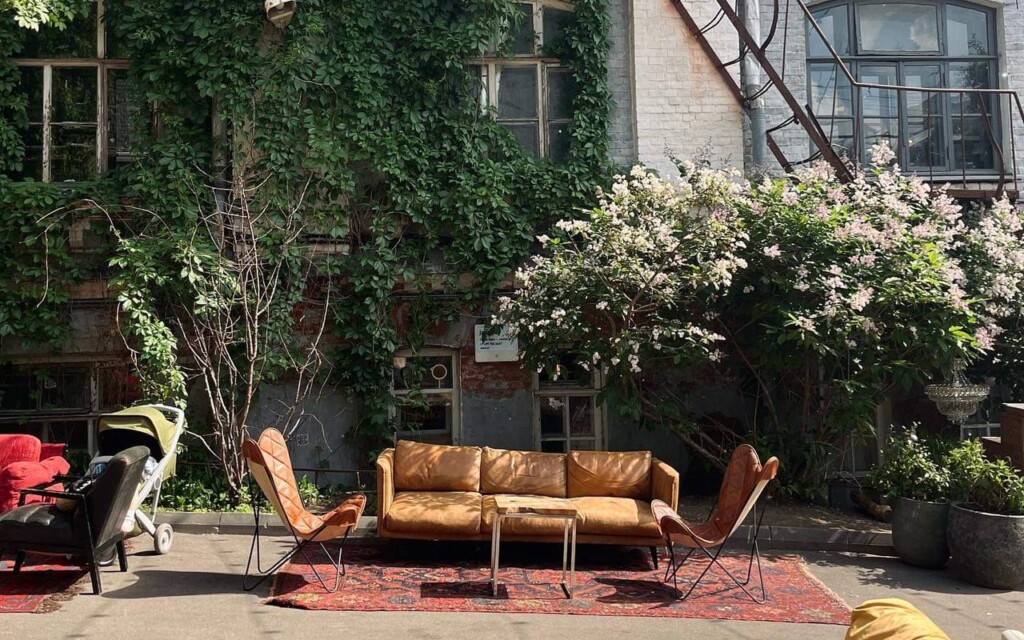 In summer, the stylish and green restaurant expands its boundaries and turns the courtyard into a cozy loft-style place with leather sofas, carpets and garlands of lamps. On weekends, they arrange parties and dances with music of modern DJs.
Powerhouse
Goncharnaya street, 7/4
Mon-Thu: 12:00-23:00; Fri-Sat: 12:00-5:00; Sun: 12:00-23:00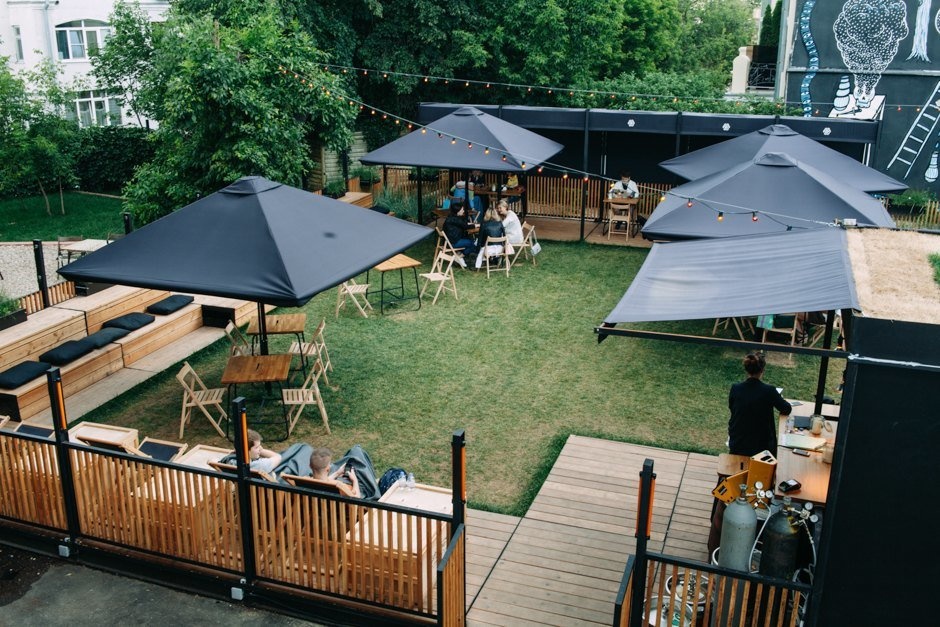 A gastrobar with a cultural program is located in a 19th-century mansion. Various events are held here — from jazz concerts and theatrical performances to noisy parties with DJs. A spacious enclosed courtyard with tables and sun loungers. There is also a table for those who like to play ping-pong.
Smoke BBQ
Trubnaya street, 18
Sun-Thu: 9:00-23:00; Fri-Sat: 9:00-00:00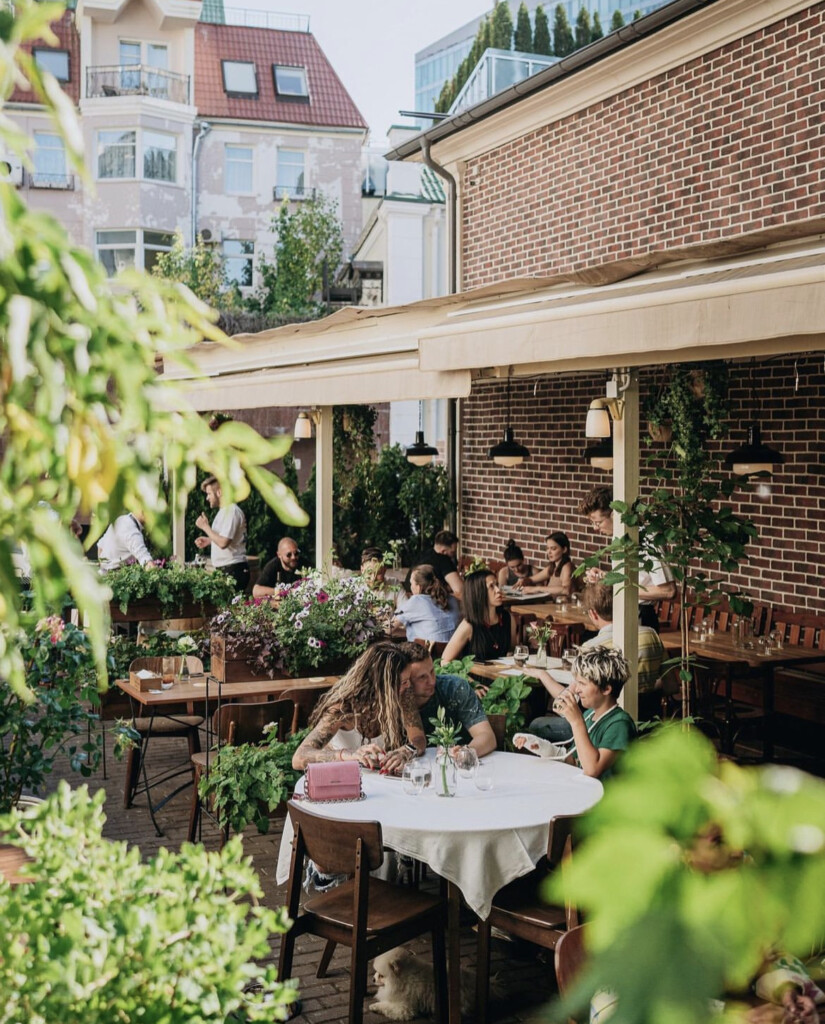 A fairly large patio where you can sit at tables or on pillows on the grass. The tables are divided by vertical beds on which cherry tomatoes, basil and herbs are grown. The concept of the place is cooking meat on fire, here they fry and smoke. The fundamental dish is considered to be a brisket from the smoker (both a wood-burning grill and a smokehouse in one).
Yauza place
Podkolokolny lane, 16 building 4
Sun-Thu: 10:00-00:00; Fri-Sun: 10:00-03:00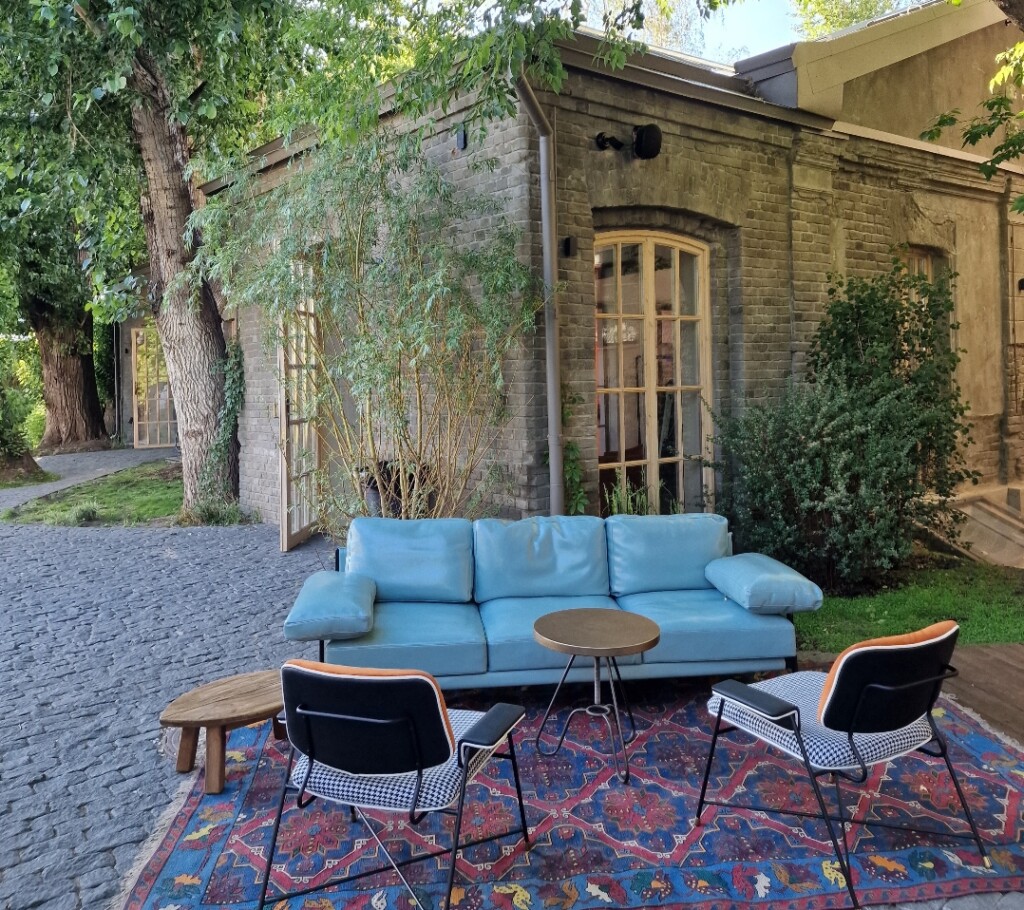 A place with a history. The former carriage house of Major General Nikolai Khitrovo, under the strict guidance of Alexey Olkhov, have turned into an incredibly stylish space. You can sit down in a restaurant with a chic designer interior, in a bar or on the street. There are two courtyards here — large and small, separated by a pergola. On Fridays and Saturdays there are parties with cool DJs and a variety of music.
Share
Voznesensky Lane, 5, b. 1
Mon-Thu: 08:00-00:00; Fri: 08:00-02:00; Sat: 10:00-02:00; Sun: 10:00-00:00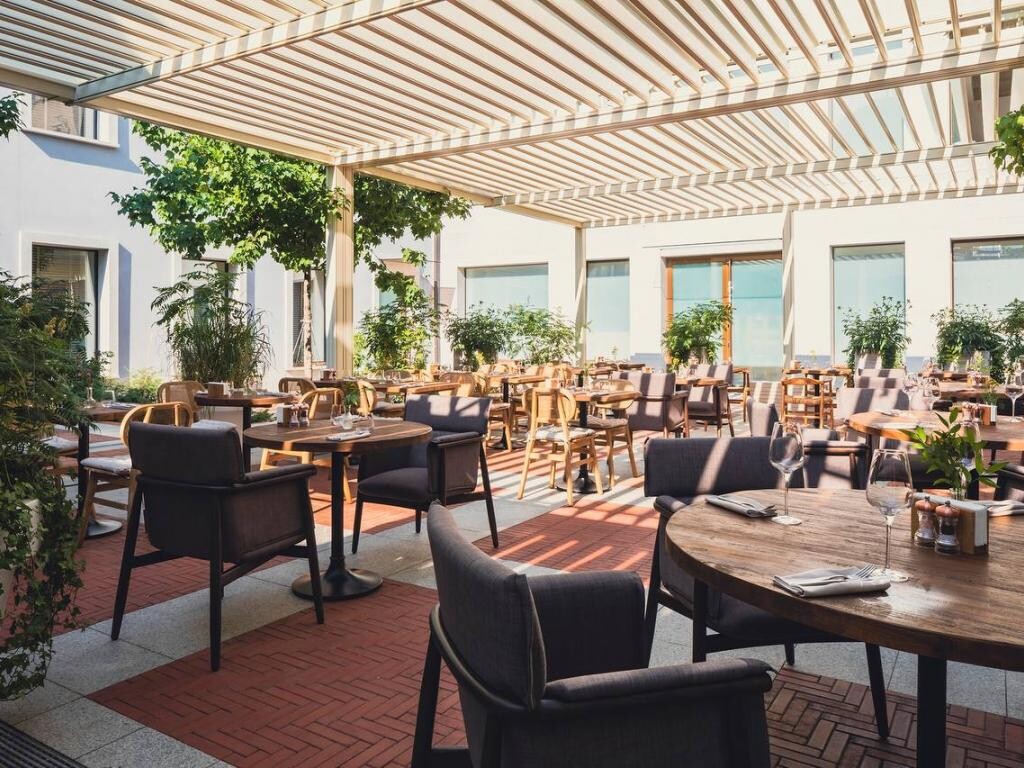 The restaurant is located in a quiet alley, a couple of steps from the noisy Bolshaya Nikitskaya. Spacious veranda in the courtyard. Until 16 o'clock in the afternoon birds are singing here, and you can feel yourself in the park, and not in the city center. Every Friday and Saturday there are parties and DJ sets. According to the idea of the place, here you need to share emotions, impressions, mood and, of course, food.
Cozy
Folk
Tsvetnoy Boulevard, 2
Mon-Sun: 9:00-00:00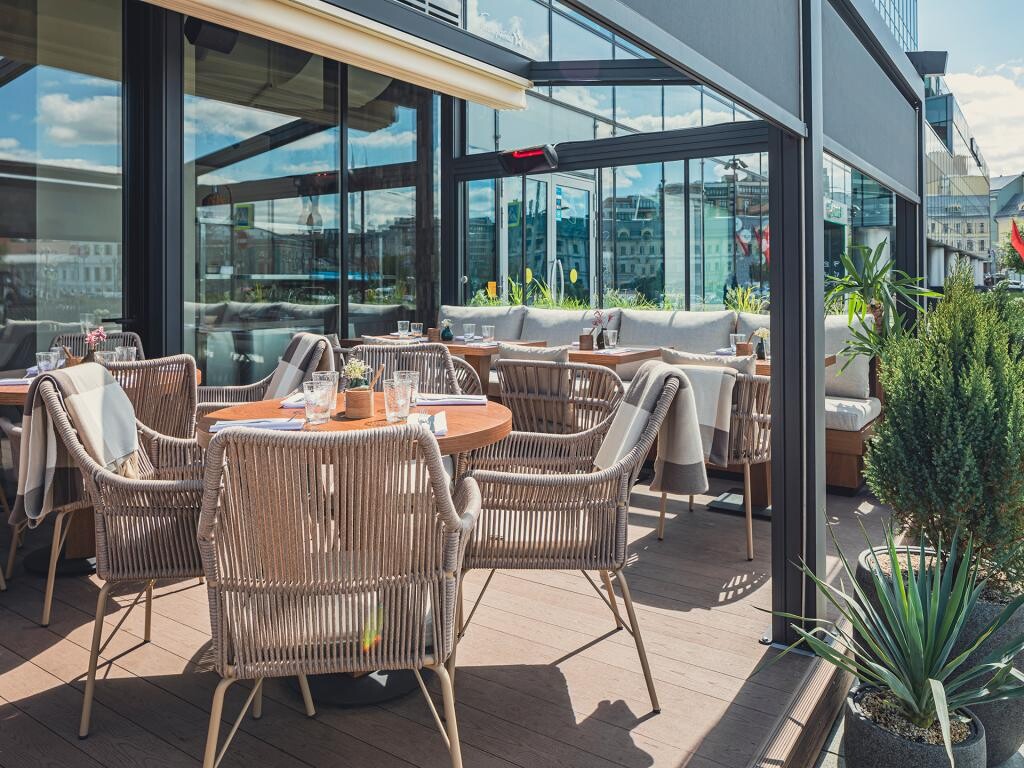 A small veranda is a garden, and when the panoramic windows are open, it becomes a continuation of the patio with a wood-burning stove, where they cook incredible taste of lahmajuns and flatbreads. Cuisine with an ethnic leitmotif of Caucasian dishes and elements of the Middle East. Highly recommend trying everything, because here even an ordinary green salad plays with multiple flavors.
No.13
Malaya Bronnaya street , 13
Mon-Sun: 9:00-23:00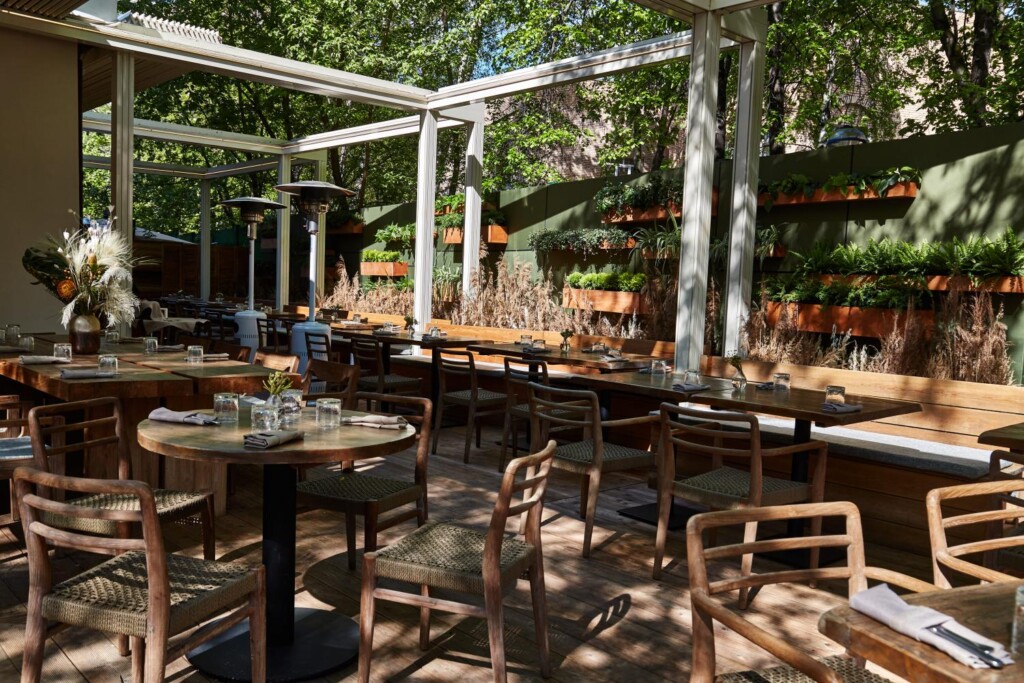 The most green veranda on the Patriarch`s ponds. It will be great to start the day here, especially since breakfast is served until 14:00, or continue the day is also perfect idea. The main concept of the place is vegetables as a separate gastronomic art. The main cooking tool is an open fire — it shows the aroma and taste, fills the vegetables with warmth. The smart comfort food menu offers clear dishes for every taste.
Loona
Tverskaya Boulevard, 24, b. 1
Mon-Sun: 9:00-00:00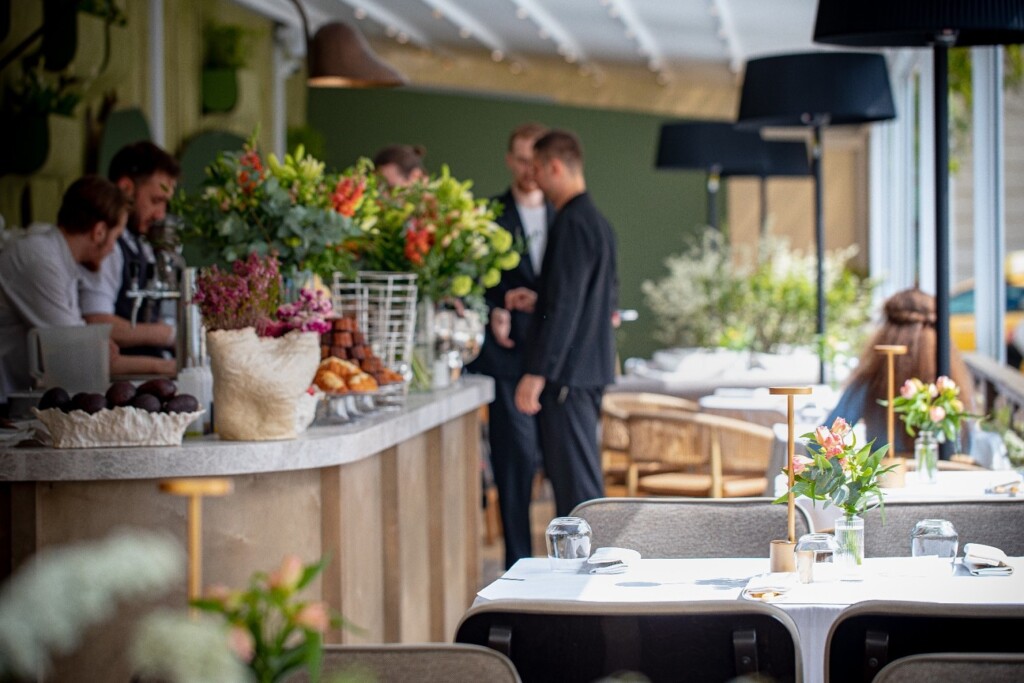 An Italian restaurant with a wood-burning oven, fresh homemade pasta and pizza from classic to fully vegetarian with a base of almonds and cauliflower. The atmosphere of calm and relaxation surrounds already from the entrance. The summer veranda in bright colors with flowers and greenery set you to a pleasant rest. It will be great to have breakfast here, then return for lunch and finish the day with dinner. A place where you want to try everything.
Eva
Bolshaya Gruzinskaya street , 69
Mon-Sun: 8:00-00:00
One of the most important verandas in the Belorusskaya area. Wildflowers, natural wood furniture and modern Greek cuisine are the best combo for summer. Good portions and very tasty.
"Garden house" at VDNH
Prospect Mira, 119, building 512
Sun-Wed: 11:00-22:00; Thu-Sat: 11:00-23:00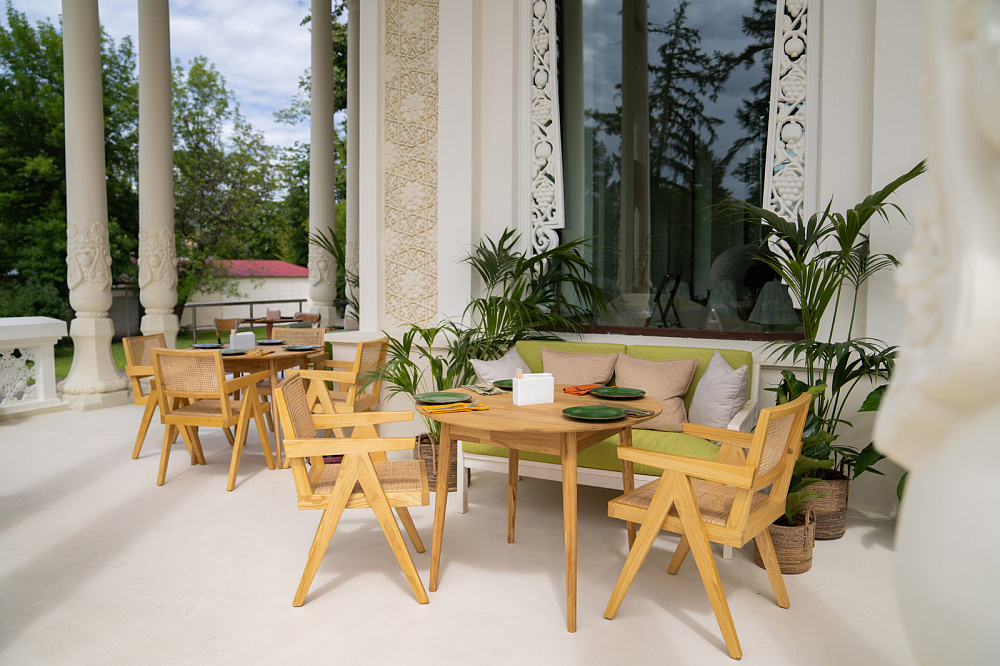 The restaurant is located in a luxurious mini-pavilion with tracery moldings, stylish interior and greenery. Aesthetics are felt in every detail here. Elements of southern ethnics — wicker chairs, wooden tables, umbrellas, a hammock — all create a relaxing atmosphere. The menu has Italian motifs.
Garage cafe
Krymsky val, 9, b. 32
Mon-Sun: 11:00-22:00
The restaurant's terrace is surrounded by luxuriant green bushes and flowering plants at the Garage Museum. You can combine a walk in Gorky Park with a visit to the exhibition and delightfully finish the day. The menu combines the traditions of European and Asian cuisine, there is a separate one for children, and desserts from the famous pastry chef Elena Nabiullina are definitely worth trying.
---
The materials translated into English by Vladimir Grebnev